Are you looking to create a casino gaming website with ease and flexibility? If so, you may want to create your site using WordPress, the free and open-source content management system. WordPress is well known for having excellent features including a plugin architecture and online templates system. It is also well known for its diverse range of both free and paid themes that users can easily install and switch between without having to alter the content of their site.
You can easily search for wordpress themes that will best suit your casino games offering. Conducting an online search is free and easy.
That being said, the following are 5 of the best wordpress gambling themes.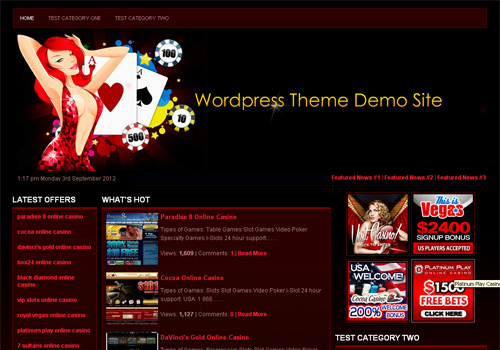 WPG146 – Gambling WordPress Theme (WP Gambling) – This is a free theme that supports custom menus, nested comments, social bookmarking, has cross browser compatibility and is compatible with older versions of wordpress. Users of this template are free to customize it as they wish.
WPG108 – Online Casino WordPress Theme (WP Gambling) – Another free theme, this one specifically targets online casinos and comes with built-in animations, is compatible with all major browsers, uses valid HTML code and is widget ready. It's a 2-column layout theme ideal for anyone looking for a theme that is simple but functional.
Pro Gmabling (Elite Themes) – This theme is optimized for casino sites and magazines and supports a one or two sidebar layout. It has been designed with a widget-ready structure and offers some slider functionally, as well.
Poker Bonus Point (Elite Themes) – This theme is more suited to those seeking to build a site that is focused on bonuses and promotions. A clean and practical design, this theme features many widget-ready areas and a standard blog layout with two sidebars on both sides.
Pokeroost Theme (Theme Forest) – this is a paid theme that has been specially designed for poker sites and poker magazine sites. It offers a lot of advance features including a built-in page builder with drag-and-drop functionality, fluid layout, hand history post format, background manager and more.